Hugo Boss THE JAMES 1513465 Herrenarmbanduhr Design Highlight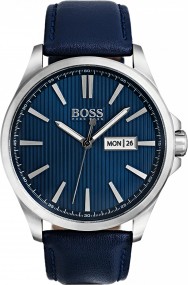 Gehäuse ausEdelstahl (gebürstet)
Durchmesser (ohne Krone) in mm / Zoll44 / 1,73
Armband ausEchtleder
GlasMineralglas
Art der AnzeigeStunden, Minuten, Sekunden & Datum, Wochentag
BesonderheitDesign Highlight

Lieferung:
Versandfertig in 1-3 Werktagen
Artikelnummer

1513465

Artikel ID

7327
Technische Details
GEHÄUSE

Gehäuse aus

Edelstahl (gebürstet)

Farbe des Gehäuses

Silber

Lünette aus

Edelstahl (poliert)

Glas

Mineralglas

Boden

Edelstahl Boden

UHRWERK

Art der Anzeige

Stunden, Minuten, Sekunden & Datum, Wochentag

Uhrwerk

Quarz

Kalender

Wochentag + Datum

ZIFFERNBLATT

Farbe des Ziffernblatts

Blau

Ziffernblatt Stil

Satiniert

Beleuchtung

grün leuchtend

ARMBAND

Farbe des Armbands

Blau

Schließe

Dornschließe

Armband aus

Echtleder

WEITERE ANGABEN

Produkt

Uhr

Hersteller

Hugo Boss

Modell

THE JAMES

Besonderheit

Design Highlight

Logo auf

Ziffernblatt, Armband, Boden, Schließe

Metallart / Stempel

Edelstahl 316L

Garantie

2 Jahre Garantie

Schließe

Dornschließe

TECHNISCHE DATEN

Abstand Hörner in mm / Zoll

52 / 2,05

Breite des Armbands in mm / Zoll

22 / 0,87

Durchmesser (ohne Krone) in mm / Zoll

44 / 1,73

Gewicht in g / unzen

65 / 2,29

Höhe in mm / Zoll

11 / 0,43

Max. Armbandumfang in mm / Zoll

230 / 9,06

Wasserdicht bis (bar)

5
Sie finden Gefallen an der Herrenarmbanduhr Armbanduhr von Hugo Boss mit der Artikelnummer 1513465? Shoppen lohnt sich auf Zeitlounge.com, denn innerhalb Deutschlands kommen alle Bestellungen ab einem Einkaufswert von 50,- Euro versandkostenfrei zu Ihnen nach Hause oder ins Büro. Das Gehäuse besteht aus Edelstahl (gebürstet). Die Lünette ist aus Edelstahl (poliert) und passt optisch hervorragend zum Rest dieser Uhr. Das Glas wurde aus dem Material Mineralglas gefertigt. Das Gehäuse hat die Farbe Silber und der Boden ist ein Edelstahl Boden.Die Art der Anzeige ist Analog und das Uhrwerk Quarz. Der Stil des Ziffernblatts ist Satiniert und es hat die Farbe Blau. Die Farbe des Armbandes ist Blau, die Schließe ist eine Dornschließe und das Armband besteht aus Echtleder. Die Besonderheit dieser Uhr ist "Design Highlight". Das Logo befindet sich auf Ziffernblatt, Armband, Boden, Schließe und der Käufer hat 2 Jahre Garantie auf die Uhr. Die Metallart/ der Stempel besteht aus Edelstahl 316LDie Breite des Armbandes ist 22 / 0,87 mm / Zoll. Der Durchmesser ohne Krone beträgt 44 / 1,73 mm / Zoll. Die Uhr hat ein Gewicht von 65 / 2,29 g / unzen. Die Höhe beträgt 11 / 0,43 mm / Zoll und der maximale Armbandumfang ist 230 / 9,06 mm / Zoll. Die uhr ist bis zu 50 / 1,97 m / bar wasserdicht. Ihnen gefällt diese Hugo Boss THE JAMES 1513465 Herrenarmbanduhr Design Highlight? Dann könnten diese beiden Armbanduhren auch ganz interessant für Sie sein:
Hugo Boss THE JAMES 1513466 Herrenarmbanduhr Design Highlight
und
Hugo Boss THE JAMES 1513464 Herrenarmbanduhr Design Highlight
. Weitere Uhren der Marke Hugo Boss und weitere Informationen finden Sie unter dem Menüpunkt
Hugo Boss
.
Weitere Uhren von Hugo Boss
t