Festina
Festina is a watch brand well known through cycling and major events. Hollywood actor Gerard Butler is also promoting the brand. A diverse range is aimed at lovers of sporty, elegant, timeless and small watches. Women, men and children will not miss a second with the high-quality quartz watches.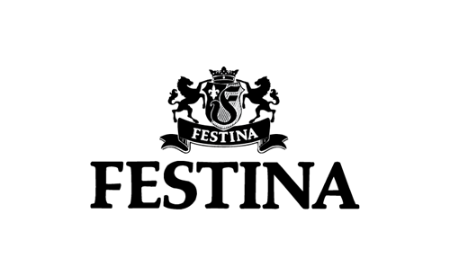 Watches for elegance and sportiness
The origin goes back to 1902, when the Swiss watch brand was founded. It began with the motto "Festina Lente", which means "hurry up". In 1984 the company became the Festina-Lotus Group. This group includes other brands such as Candino, Lotus, Jaguar, Calypso and Kronaby. The popularity of this watch brand also results from the fact that it is presented in advertising clips by Hollywood actor Gerard Butler, who has been a brand ambassador since 2016. The watches make a very sporty impression, which is why it is not surprising that Festina is represented in sport at major events and especially in cycling, such as the Tour de France. With Lotus, on the other hand, the Festina-Lotus Group is relying on the face of American actress Megan Fox as another brand ambassador.
Collections with innovation and quality
It is important for every watch company to stand out from the competition with innovation and quality. This was achieved, for example, with the first watch from Lotus that could display the moon phase. Due to the increasing popularity and higher sales figures, this in turn had a positive effect on the price-performance ratio of all watch brands of the Festina Group. In conclusion, most watches could be offered at a lower price while maintaining the same quality.
Several collections of the Swiss watch manufacturer have a great resonance with watch lovers. The movement is made of quartz and provides minute time indications for detail lovers. There are numerous offerings for both women and men, including unisex models. 
Men's watches for everyone
A men's' watch like the one Gerard Butler wears stands for elegance, strength and charisma, just like the actor embodies in his war and action film 300. Being on the move with sporty spirit and taking a quick glance at the wristwatch - this is best done with a model that works at lightning speed. The material must be robust and resistant. That's why there are models made of hard and scratch-resistant stainless steel. People who prefer a bracelet without steel can also choose between rubber, silicone and leather straps.
Prestige
The Prestige series includes high-quality, shiny pieces for men who want to adorn their wrist with a real eye-catcher. Robust bracelets made of stainless steel and models in a modern style or a classic look are always up-to-date. They are also very resistant to sporting activities and contact with water. Their water resistance is 10 bar. As a chronograph, each men's watch shows the time to the second.
Chrono Bike & Sport
The models from the Bike series are especially popular with cycling fans. They make a fresh, colourful, friendly and modern impression. Since 2019, there is also the Tourchrono collection, which already draws attention to cycling through its name. In addition to the silver stainless steel straps, Zeitlounge offers Bike models made of rubber and silicone. These are available in colourful varieties such as red, yellow, orange, purple, blue and black. They are men's chronographs that give you the feeling of always being on the go and acting contemporary.
A very sporty impression is created by the Sport collection. Some models offer a second time zone as a special feature and have a 24-hour hand. In addition, as a little extra, the time is very easy to read, while the case is also available in a solid version.
Retro
For those who want to bring the past into the present out of nostalgia, the Retro models are just right. They are characterized by a classic, simple style. Their water resistance is 5 bar and, as with the other collections, the dial is protected by a shatterproof mineral crystal. This is 20 times harder than simple plastic glass made of acrylic or plexi.
Ladies watches for the elegant woman
An elegant ladies' watch is like jewellery and attracts attention like fine necklaces and rings. There are models for women that are equipped with shiny crystal stones and zircons. The noble look is particularly emphasized in the Classic Ladies series, where glamour meets classically simple style.
Mademoiselle
In this series, the expressions are of very elegant style. Made especially for women, some models of this ladies' watch feature Swarovski crystals that make the dial look like a starry sky at night. The striking thing about this design is that it creates multiple colours, making the playful variety a real eye-catcher!
Boyfriend
This range has wristwatches and chronographs to choose from, which immediately forge themselves around the wrist due to their very high wearing comfort. The look is very delicate thanks to soft colour nuances such as silver, white, pink, violet and gold. Black and blue dials also provide variety and contrast. Luminous hands ensure good visibility at night. With this look, you will make a seductive impression on your counterpart!
Junior Collection
To ensure that children don't forget the time, there are very affordable models in the Junior Collection. Most of them have a special feature: they are very easy to read, so that the child always knows exactly what time it is. The children's watches are available both as normal wristwatches and as chronographs. An extension is the Sport Junior Collection, which gives the child a dynamic and flexible impression with its sporty variants.
Buy Festina watches online at Zeitlounge
From boyfriend to chronobike and sporty: Festina watches offer a great spectrum for women and men to choose from. Find your own style: With precise time indications created by the small gears in the movement of the quality watch, your inner life tunes itself rhythmically with a glance at the Festina. If you don't wear a shiny beauty on your wrist yet, you're sure to find one at Zeitlounge.