Tissot PR 100
With a wristwatch from the timeless Tissot PR 100 collection, you are just a few steps away from a comfortable, quality product. With a choice of different models, there are real eye-catchers available for your wrist. The Swiss brand was founded in 1853 in the canton of Neuchâtel and is based in Le Locle. From there, 4 million watches are exported annually. In addition, the manufacturer is also known for its jewellery.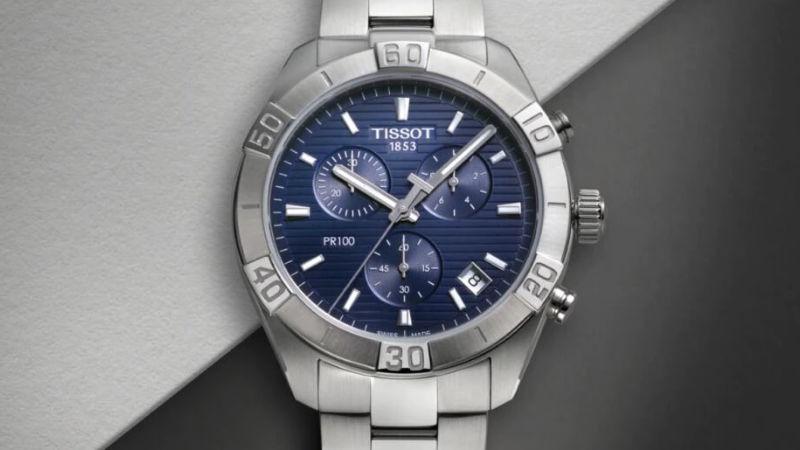 Whether in Glashütte, Tokyo, London or Paris - watch manufacturers are spread all over the world. If the groundhog now greets you when you look at your wristwatch every day, you can be sure that it reliably shows the same time again and again. Above all, the Swiss brand Tissot stands for precision, Swiss reliability and traditional watch design. Even Hollywood star James Stewart looked at a Tissot in Alfred Hitchcock's "The Window to the Courtyard" (1954)!
Tissot PR 100 - For ladies and gentlemen
In our collection of watches, you will find both Tissot PR 100 ladies' watches and men's watches. With the diverse selection and the wide price range, there is certainly something for everyone. Depending on your taste, our models are available with their cases and straps in silver, rose gold, red gold and classic gold. But you don't have to limit yourself when it comes to the colour of the dial, either. For example, when looking at the colour palette of the different models, you will notice that there are white, blue, pink or silver dials. If it is not only the shine of the watch that should be in the foreground, then various colours can make for a somewhat more colourful life - because ultimately you look at the colour of the dial every day! Depending on how you want the strap to close on your wrist, you can choose between a folding clasp & automatic variant, pin buckle and carabiner.
High quality material
Whether it's a ladies' or a men's watch - in every model, the mechanical movement is made of robust and visually appealing material. Most of the Tissot PR 100 models have a bracelet and case made of stainless steel, although some bracelets are made of genuine leather. The leather variant is particularly advantageous if you suffer from a nickel allergy or an intolerance to metal. On the other hand, you can choose the steel version if you are allergic to leather. However, you don't have to worry too much about the stainless steel, because 316L steel grade is used. It contains only a small amount of nickel, which is not released when 316L comes into contact with skin. If you are unsure, you should rather go for watches made of titanium, gold or with a PVD coating. PVD (Physical Vapour Deposition) is particularly considered hypoallergenic. 
The dial is protected by scratch-resistant sapphire crystal glass. On some models, this glass has an additional anti-reflective coating. This allows you to take a closer look at the time despite strong sunlight or unfavourable lighting conditions. Sapphire glass is not only called so, it is also actually made of sapphire, which is very scratch-resistant and shatterproof. Because of their endurance, sapphire glasses are called "the diamonds" among watch glasses, with diamonds being known to be the hardest substance in the world!
Water resistance
You don't have to worry about rain with the PR 100 models. The watch even shows you exactly to what depth you can go underwater with it without damaging the movement, with an inscription on the back of the case. Depending on the model, you will find a different indication there. Either it says 3, 5, 10, 15 or 20 bar. Each number is multiplied by 10 to find out how many metres the watch is water-resistant. So 3 equals 30 metres, 5 equals 50 metres and so on. However, the water resistance of the watch can decrease over time. This depends on factors such as ageing or accidents. It is therefore advisable to carry out an annual check.
Automatic watches with a long power reserve
Once time stands still and all the power in a wristwatch has been used up, you have to wind it up again. It is only a matter of time before it comes to a standstill. That is why every model should have sufficient energy available. In addition to the powerful Powermatic 80 Gent models, the PR 100 series is a real front-runner when it comes to power reserve. Normally, this allows the mechanical movement to run for up to 40 or 50 hours. The automatic watches in the PR 100 series even have a power reserve of around 80 hours!
Getting more time out - chronographs
A chronograph (time recorder) has additional functions compared to an ordinary wristwatch. For example, it can precisely measure time in hours, minutes and seconds, which means you no longer need a stopwatch. Two pushers and a winding crown allow you to use this function. Automatic watches also have a date display and the exact time. Some models from the PR 100 series include this in their features.
Buy Tissot PR 100 Watches online at Zeitlounge
Wristwatches from the PR 100 series are offered on the market in a wide variety of versions. There is the perfect timepiece for everyone - women, men, young and old. High-quality material and waterproof movements enhance the product. If things get a little hectic - and not just in terms of time - the sapphire glass protects the watch from accidents. To keep track of time in stressful situations, there are even models with an extra-long power reserve of up to 80 hours.
Are there any questions left unanswered, and do you have any other very specific questions about the watch models? We can provide you with information about different models, payment, delivery questions and much more if you contact us. Don't waste any time and enjoy your new wristwatch! You can also order from us so that the goods are ready for dispatch in 2-3 working days.